Walker Attachments (Implement Hitch Not Required)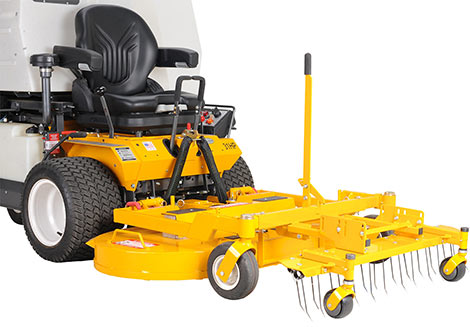 Dethatcher
The Dethatcher easily clips on the front of 36″, 42″, 48″ and 52″ Walker decks without fasteners or tools in a quick, easy motion. When used with the GHS vacuum on Models MC, MD, MS and MT, lawn thatch and debris are lifted, removed and collected in one pass. A lift lever with foot trigger lowers and raises the Dethatcher for easy transport when driving between mowable areas.
48″ Dozer Blade
The Dozer Blade features a five-angle positioning head and a spring-trip action for protection when hard objects are encountered. The blade comes standard with a replaceable UHMW polyethylene wear bar, with an optional steel bar available. It comes with a manual lifting mechanism not requiring an implement hitch. As with all Walker implements, mounting a Dozer Blade is a simple and quick process. Often used to remove snow from sidewalks, it is also a powerful loose dirt and gravel mover.
.
.
Operator Soft Cab
The Operator Soft Cab is designed to shield the operator from winter weather when using the 42″ Snow Blower, 47″ Rotary Broom and 46″ Dozer Blade. The cab features a hinged door for operator entry, glass windshield, electric windshield wiper and headlights
.
.
.
36″ Single Stage Snowblower
Just the right size for tackling sidewalks and driveways, the 36″ Single-Stage Snowblower mounts directly in place of the mower deck in just a few minutes. It throws snow up to 20 feet with its high speed, clog-resistant auger, even when working in wet, slushy conditions. The discharge chute rotates 180 degrees, and is adjustable from the operator seat. A replaceable, hardened steel scraper provides good clearing action. A compact, powerful addition to your Walker Mower, the 36″ Snowblower keeps you working year-round.
.
.
ROPS (H series only)
A bolt-on folding ROPS kit is available for all H-Series tractors.  ROPS comes standard on the MH24d
.
.
.
.
Boom Sprayer
A helpful attachment for mowing companies, the Boom Sprayer easily mounts to all 42″, 48″, 52″, 56″, and 62″ Walker decks and offers a 96″ spray pattern, allowing operators to apply fertilizer or weed-killer in an efficient manner. A spray-gun with a 20 foot hose allows the operator to leave the mower and apply liquid material to all landscape features. The spray tip adjusts to offer output varying from a mist to a 35-foot stream. The 25-gallon tank allows easy cleaning of the tank and spray system.